Come Enjoy Some Hot Fun in the Summertime at Sun Peaks!
Have you been locked away inside after a long, cold winter? Well it's time to escape to the outdoors and play! Top of the Mountain can provide you with all the hot weather fun and adventure you're looking for!
Although Sun Peaks Resort is Canada's second largest ski playground, and the second largest in British Columbia, this vacation destination offers year-round activities for the entire family.
Join us for balmy activities like a round of 18-holes at the world-class Sun Peaks Resort golf course located 1200 meters above sea level, centered along the valley floor amongst the three surrounding mountains, Tod, Sundance, and Morrisey.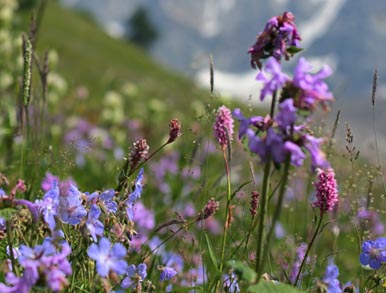 Do you want to hike, fish, and mountain bike? How about kayaking and canoeing? Sun Peaks offers incredible access to all things fun in the sun like horseback riding, a sports and aquatic center, hot tub and tennis courts. Explore the weekly Sunday Farmers' Market for freshly picked local produce, then discover over 40 shops, restaurants, bars, and cafés awaiting your arrival at the award-winning Sun Peaks Resort village center.
The village is also just minutes from the resort's Sunburst Express Chairlift, which operates in the summer for enchanting trips up the mountain to service the bike park, alpine hiking trails and an endless delight of sightseeing.
Then there are all the summer events and festivals, like the Beer & Chili Cook-off, Alpine Blossom Season, the annual Wine & Culture Festival, and the extra special Retro Rock Concert Weekend in August—to name just four events in an endless array of activities.
Sun Peaks is a vibrant, elegant and upscale resort with everything you want so you can truly enjoy a unique Canadian summer vacation in the friendly atmosphere of a quaint alpine village. Sun Peaks is a world of its own, whether you're looking for a locale to keep active and frolic in the sunshine, or just a place to unwind and get away from your busy lifestyle we have vacation pricing to suit your needs.
We know you'll want to relax and put your feet up after an exceptional day of luminous outdoor exploration. We know that you'll want your summer vacation in affordable lodging and comfort, so you are rested for your next day's sunny adventures! We know you need accommodations, and we know you don't want this part of your vacation to be a hassle or a wallet-drainer.
We get it! So let Top of the Mountain Accommodations at Sun Peaks Resort house you in one of our fully equipped, privately-owned condos with all the amenities, including hot tubs and saunas, where all your accommodation needs are 100% taken care of so you can relax and enjoy your stay.
Our professional service is delivered with the personal touch of a family-run business. We're here for you so all you have to do is have some great summer fun, hang out, and enjoy yourself.
Summertime at Sun Peaks is lush with nature and blooming with activities! We invite you to book your next summer holiday accommodations with Top of the Mountain Accommodations and Management at Sun Peaks Resort!