About the Owners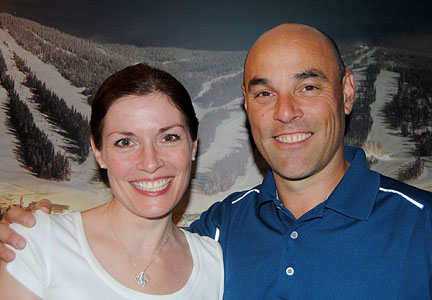 Top of the Mountain Accommodation & Management is a family run business owned and operated by Cage & Deb. September 2014 marks the beginning of our 5th season here and we are proud to call Sun Peaks our permanent home.
We moved up here with our three teenage children (only one is still a teenager but who's counting) in September of 2010 to build a business and enjoy a lifestyle that few places offer. We arrived with these goals in mind:
to grow a business built on relationships, service, and integrity in one of the most beautiful locations in Canada
to build a family business where my wife, children and I can apply our talents and energies toward something that means more than just a paycheck
to join the youthful and exciting community of Sun Peaks as it takes off as one of the premier vacation destinations in North America
to live, work, and play where so many come to celebrate
Reason's to consider Top of the Mountain Accommodations
Whether you're a property owner looking for a company to care for your investment, or a traveler trying to find Accommodations, the following are reasons you may be interested in contacting us:
You'll always get personalized service from someone you'll know by name
We're residents of Sun Peaks and our phones are open to you 24/7
We serve our customers like family, but we're accountable professionals with a history of delivering goods and services to corporations and government
Deb & Cage
We've been together for over 20 years and have three grown children who now often work for our business. We have home schooled them for a number of years and been fortunate that I have been able to perform most of my computer based consulting services from a home office. One of our greatest "teaching" successes as home schoolers came in the form of a four month driving trip that took us from Vancouver, BC, down through the US and Mexico to our destination of Belize in Central America.
Prior to coming to Sun Peaks, Deb and I worked, volunteered, and served companies in the Personal Development industry. We are committed to the vision that happy and healthy people are always growing, always learning (and in many cases "unlearning" the bad habits and patterns which keep them from achieving their goals), and always serving others.
I have principally worked on the information technology side of things, building the computer systems designed to run companies in the event management field. The software I original built for the event industry is very suited to our needs for accommodations management and I have since modified it to help manage our bookings. I feel my principle talent is the ability to take complex business problems and simplify or automate a solution to them using technology.
It's this skill which has allowed our business to grow over 300% since our first season while continuing to deliver excellent service in all areas without suffering the difficulties experienced by most companies which grow so quickly. Be sure to ask us about our automated email communications to guests and our incredible solution for guest check ins.
Deb on the other hand, has often worked on the delivery side of the personal growth industry helping to organize and manage live events with anywhere between two hundred and two thousand attendees. She has what I like to think of as "functional OCD" (Obsessive, Compulsive, Disorder, or as her children call it, "Oh Crazy Deb"). To the attendees and companies she's served this means that she comes up with organizational systems to ensure every "i" get's dotted and every "t" get's crossed in as efficient a manner as possible, and when the system works perfectly--don't mess with it!
For our property owners, this means their properties are looked after with an attention to detail that only clinical psychology could cure, and for our guests, it means they always arrive to accommodations that are clean, well stocked, and ready for them.
On the wilder side of the personal development industry, we've both jumped off cliffs, broken arrows with our throats, and, yes, we've even walked on burning coals with our bare feet. No, we're not nuts, and while we may be a bit eccentric, I think we can best be summarized as people who are willing to face their own fears in order to accomplish the goals we set out for ourselves. When you meet us, we hope you'll be left with the impression that we're actually very down to earth, hard working, relentlessly optimistic, and truly interested in both your needs and who you are as a person.
Sincerely yours,
Cage & Deb