About the Owners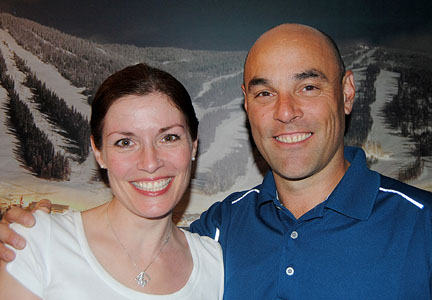 Top of the Mountain Accommodation & Management is a family run business owned and operated by Cage & Deb. September 2019 marks the beginning of our 10th season here and we are proud to call Sun Peaks our permanent home.
We moved up here with our three children (who are now all adults) in September of 2010 to build a business and enjoy a lifestyle that few places offer. We arrived with these goals in mind:
to grow a business built on relationships, service, and integrity in one of the most beautiful locations in Canada
to build a family business where my wife, children and I can apply our talents and energies toward something that means more than just a paycheck
to join the youthful and exciting community of Sun Peaks as it takes off as one of the premier vacation destinations in North America
to live, work, and play where so many come to celebrate
Reasons to consider Top of the Mountain Accommodations
Whether you're a property owner looking for a company to care for your investment, or a traveler trying to find accommodations, the following are reasons you may be interested in contacting us:
You'll always get personalized service from someone you'll know by name
We're residents of Sun Peaks and our phones are open to you 24/7
We serve our customers like family, but we're accountable professionals with a history of delivering goods and services to corporations and government
Deb & Cage
We've been together for over 25 years and have three grown children who now often work for our business. We had home schooled them for a number of years and we've been fortunate that I have been able to perform most of my computer based consulting services from a home office. One of our greatest "teaching" successes as home schoolers came in the form of a four month driving trip that took us from Vancouver, BC, down through the US and Mexico to our destination of Belize in Central America.
Prior to coming to Sun Peaks, Deb and I worked, volunteered, and served companies in the Personal Development industry. We are committed to the vision that happy and healthy people are always growing, always learning (and in many cases "unlearning" the bad habits and patterns which keep them from achieving their goals), and always serving others.
I have principally worked on the information technology side of things, building the computer systems designed to run companies in the event management field. The software I original built for the event industry is very suited to our needs for accommodations management and I have since modified it to help manage our bookings. I feel my principle talent is the ability to take complex business problems and simplify or automate a solution to them using technology.
It's this skill which has allowed our business to grow over 300% since our first season while continuing to deliver excellent service in all areas without suffering the difficulties experienced by most companies which grow so quickly. Be sure to ask us about our automated email communications to guests and our incredible solution for guest check ins.
Deb on the other hand, has often worked on the delivery side of the personal growth industry helping to organize and manage live events with anywhere between two hundred and two thousand attendees. She has what I like to think of as "functional OCD" (Obsessive, Compulsive, Disorder, or as her children call it, "Oh Crazy Deb"). To the attendees and companies she's served this means that she comes up with organizational systems to ensure every "i" get's dotted and every "t" get's crossed in as efficient a manner as possible, and when the system works perfectly--don't mess with it!
For our property owners, this means their properties are looked after with an attention to detail that only clinical psychology could cure, and for our guests, it means they always arrive to accommodations that are clean, well stocked, and ready for them.
On the wilder side of the personal development industry, we've both jumped off cliffs, broken arrows with our throats, and, yes, we've even walked on burning coals with our bare feet. No, we're not nuts, and while we may be a bit eccentric, I think we can best be summarized as people who are willing to face their own fears in order to accomplish the goals we set out for ourselves. When you meet us, we hope you'll be left with the impression that we're actually very down to earth, hard working, relentlessly optimistic, and truly interested in both your needs and who you are as a person.
Sincerely yours,
Cage & Deb
Testimonials from Our Guests
"I have booked rentals with Top of the Mountain 4 different times now. The accommodations are always very comfortable and super clean. I find the booking and check in process are very easy to do. Cage and his staff are very professional and I do not hesitate to recommend them to anyone planning a trip to Sun Peaks." - Ed
"We've booked accommodations several times using Top of the Mountain and have never been disappointed! The service they provide is over and above…Highly recommend for your booking requirements!" - Jenni G.
"We have used Top of the Mountain on numerous occasions and have always experienced excellent customer service. Communication before, during and after the vacation is first class and the standard of accommodation has always exceeded our expectations. Thank you." - Stuart B.
"One of the best stays at Sun Peaks ever! Most attentive and responsive staff I have ever encountered at a ski resort. Top notch service. I definitely recommend Top of the Mountain." - K. B.
"My group and I had a fantastic time at our Trapper's Landing rental. It had everything you could ever need and more. We all plan to make it an annual event! Check in and out was so easy and the location was perfect. Top of the Mountain made our vacation so easy!" - Erin J.
"Our 'Old Boys' ski group has been going to Sun Peaks for many years and I am pleased to say that 'Top Of The Mountain' team's service from initial booking, to on site follow up and final review has been the best of anyone I have used at Sun Peaks. The accommodation was exactly as expected and your team made our trip very easy, We will be using Top of the Mountain again next year." - Gordon D.
"We had a wonderful family holiday at Sun Peaks! Top of the Mountain is a fantastic property management company – all phone calls were answered, all issues (they were small) were resolved promptly and every member was courteous and friendly. Sun Peaks is a fantastic ski resort – again, friendly helpful staff and amazing scenery. I would highly recommend this resort for a family holiday!" - Michelle
"What a wonderful 3 nights we had in Woodhaven! The Top of the Mountain group was attentive, incredibly organized and provided excellent customer service. I have stayed in similar places across Canada and this by far was the best property management company experience. We had a great time! Thank you!!" - Gail C.
"Fantastic service !!! Top of the mountain is top notch . From the time of booking until checkout there were there for me. Instructions for check in were clear and concise, a welcome gift on arrival as well a package of info about everything offered at the sun peaks resort. I was impressed with the first day and mid week check in to see if we needed supplies and if everything was ok. I mentioned a few things that needed attentions and I received a response immediately and the issue was resolved! Highly recommended- great experience and fantastic location at fireside lodge! I would love to return to sun peaks!" - Kathy M.
"Our stay was excellent. We where extremely happy with the location and cleanliness of our unit. Being only a studio suite we found it still more than adequate for 2 people with a good size kitchen and bathroom. Would definitely stay there again. Great price as well." - Dave F.
"This was my first time booking with Top Of The Mountain. We stayed in #29 Trapper's Landing. Everything about our stay was great; from the reservation process to our departure. We love Sun Peaks and Top Of The Mountain made it even better. We will be back." - Tina C.
"I have been dealing with Top of the Mountain for the past several years. My wife and I like to visit several times each year, and we always use this service, especially during the off-season, when rates are exceptionally good. We appreciate the ability to access full kitchens, which enables us to prepare much of our own food during our stay. The 3rd night free during the summer season promotion is also greatly appreciated. The properties are always easily accessed, clean and equipped. On the one occasion we did have an issue a few years ago, it was addressed quickly and efficiently. Top of the Mountain has been a big part of making Sun Peaks Resort our home away from home." - Rod S.
"Have stayed at Sun Peaks 3rd visit. I must say booking through Top Of The Mountain has been the best experience. There attention to detail and their follow up was beyond others." - Tony P.
"We really enjoyed our stay at Fireside 210. Very clean unit, in the village and across the street from the tennis courts. Awesome stay with our 3 young adult children. Enjoyed the late night on the outside patios for drinks. Golf course absolutely beautiful. Would very much recommend this stay to anyone." - Mike G.
"We had a lovely stay at a rental condo at #35 Snow Creek Village. This condo is managed by Top Of The Mountain Accomodations and is run very well. Our condo was clean , the hot tub was inspected daily and the grounds of the complex nestled onto a forested area, with a winding path and a little brook, offering privacy, serenity and a wonderful peaceful atmosphere to kick back in. The week we were there, we took advantage of the great weather to go on many hikes, enjoying the pristine air and beautiful scenery. The golf course is awesome....and challenging and we also enjoyed the mountain concert on the weekend. We 'll be back !" - Brian and Rhonda
"We loved our experience with Top Of The Mountain. They took care of all details and amenities. All our needs were taken care of and we had a great vacation. Definitely recommend booking with TOTM!" - Mark G.
"#14 Trails Edge. 2nd time for us in this condo and it just keeps getting better. Welcome escape from the realities of life, the unit is always immaculate and any deficiencies are addressed right away. Can't fault the Top of The Mountain staff in any facet of their business, always professional and caring. Will definitely be returning. 5 out of 5 stars!!!" - Niall R.
"We have rented a house with a group of people before, this time around we tried a townhouse and the company was Top of the Mountain. While the place was smaller, it was still more than enough space to accommodate 8 of us, (4 adults and 4 kids) with ease. There was even an extra kids tv room on the bottom floor (3 floors) no one used. I was so pleased to find there was literally NOTHING to do on our end once we arrived. We had anything and everything we needed in the kitchen to make meals at home, we were only about a 5-7 minute walk to the village, and everything was not only very clean, even the cleaning supplies they used didn't leave lingering odours throughout the place. (My wife is sensitive to smells and last place we rented was a house who used very strong scented cleaning supplies that you could smell the entire time we were there). Also the unit itself, I'm not sure how old they were but seemed as though new, it was in that good of a condition. Top of the Mountain to deal with were fantastic. They sent a rep by to knock on the door and make sure we had everything, as well as offer us lift tickets at a discount. Leading up to check in they sent emails and codes so by the time we drove up we not only had everything we needed, we had maps and contact information should there be any problems.I can'tsay enough good things about this experience. Would highly recommend them." - Ryan